Beauty & Self
Books & Music
Career
Computers
Education
Family
Food & Wine
Health & Fitness
Hobbies & Crafts
Home & Garden
Money
News & Politics
Relationships
Religion & Spirituality
Sports
Travel & Culture
TV & Movies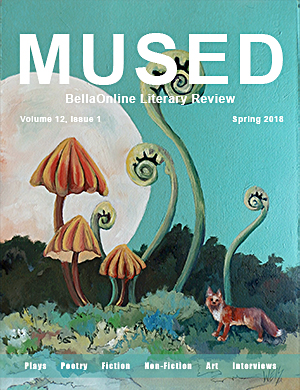 It can seem sometimes as if our world is whirling faster than we can keep up with. It can become overwhelming. Exhausting.

A balm which rejuvenates is to explore the creative efforts of individuals around us. To begin, turn off the noise and clatter of the world at large. Take a deep breath and instead focus on connecting with one fellow human being who presents their jewel of a thought to you. Examine it mindfully. Consider its meaning. Soak in the moment with this one human. Then connect with another. And another.

Enjoy the Mused Spring Equinox 2018 Issue



Crime Wave Film Review
Drama Movies - Angela K. Peterson, Editor

Director Andre de Toth elevates this B-picture to a higher level through his use of stunning black-and-white photography and creative composition. An authentic performance by Sterling Hayden anchors this crime drama shot on location in 1950s Los Angeles.




Spicy Korean Fried Rice Recipe
Quick Cooking - Karen Hancock, Editor

Got Leftovers? The spicy sauce in this recipe can transform meat or poultry into something very different from what it was originally - nobody will guess they're eating leftovers. Stir-fried with vegetables and rice, this 30 minute meal will become a favorite.




Somewhat Healthy Winter Squash Cake Recipe
Desserts - Karen Hancock, Editor

Although the term "healthy dessert" is usually an oxymoron, this delicious cake has several healthier aspects than the usual sugar-laden overly sweet cakes we usually make. It's perfect with coffee, tea, or milk, and no one will know that it's good for them. As a bonus, it's also vegan.




Five For Fun In Skagway, Alaska
Cruises - Nancy Schretter, Editor

The little town of Skagway is a popular port on Alaska cruises, offering attractions for nature lovers, adventure seekers and history buffs. If you're visiting Skagway on your next Alaska cruise, here are five great activities to consider.




We Love Our Scents
Fragrance - Juliette Samuel, Editor

We love our scents, our fragrances and aroma's. Some of our natural resources that provide essential oils to make them are being threatened with extinction. Take a look a three that top the list and alternatives that can be used instead.




Natural Alternatives to Cleaning Your Homes
Ethnic Beauty - Juliette Samuel, Editor

You put out energy, effort, time and money to make sure you've got the right beauty products for healthy clean looking skin. What about your living environment? Did you know that your cleaning products could be contributing to some of you skin irritations and breakouts?


| Google+ |
E D I T O R R E C O M M E N D E D
Pinnacle Car Care


The Creme De La Creme of Ultimate Car Care is In the House! Using Pinnacle´s product line is like a visit to the salon and the results--magnifique!
Mastering Essential Math Skills


This exercise book is an excellent resource to practice and review math skills you´ll need to establish a strong foundation and smooth transition into Algebra and other higher math courses. Workbooks are available for 4th – 5th grade and middle school / high school.
Investing $10K in 2014


Looking to invest in 2014? This EBook will show you how to create a simple portfolio that helps you invest successfully in any year.