Beauty & Self
Books & Music
Career
Computers
Education
Family
Food & Wine
Health & Fitness
Hobbies & Crafts
Home & Garden
Money
News & Politics
Relationships
Religion & Spirituality
Sports
Travel & Culture
TV & Movies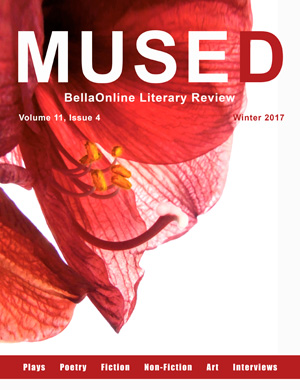 We all travel on this blue-green ball around our very own star each year, sliding a little closer, sliding a bit further away. The balance is critical. Too much closer and we'd roast. Too much further away and we'd freeze.

We should be aware of just how blessed we are that our Earth is "just right" - and do what we can to keep our world healthy. It's the only one we have.

Enjoy the Mused Winter Solstice 2017 Issue



I Love Tasty Cookbook Review
Quick Cooking - Karen Hancock, Editor

Those food videos that everybody posts to Facebook are captured in a delightful cookbook geared for busy cooks who want to get out of the kitchen fast. Fun!




Photoshop Elements 2018 Layers Panel
Digital Art and Design - Diane Cipollo, Editor

In this tutorial, we will learn how to use the Layers panel in Adobe Photoshop Elements. The Layers panel is one of the most important panels in PSE. It allows you to control and organize the design elements in your project.




Resources For Collectors
Stamps - Gary Eggleston, Editor

Stamp collecting is an enriching hobby because it has educational and cultural value. In about six months, you shall have learned about countries and special events, and a lot about the stamp collecting industry as well. You will probably meet a lot of interesting fellow collectors with whom you c




Pricing Your Coins
Coin Collecting - Gary Eggleston, Editor

This isn't always an easy question to answer since a coin's value can be subjective. In general, like anything else, a coin is "worth" what someone is willing to pay for it. There are some factors that potential buyers will take into consideration when deciding how much to pay for a coin. Some of




Insidious Book Review
Suspense / Thriller Books - Karen Hancock, Editor

Savich is contacted by his grandmother's best friend, who is convinced someone is trying to kill her. He is also working with Cam Wittier, a fellow FBI agent to find a serial killer who is slashing actress's throats.




Faith in Action
Baptist - Celestine A. Gatley, Editor

In the bible, there are accounts of faith in action. The Lord gave a directive and it was the responsibility of the believer to comply. Find out how to put your faith to work for you.


| Google+ |
E D I T O R R E C O M M E N D E D
Investing $10K in 2015


Have you received a windfall or inheritance? Confused how to manage it? Many people find the subject of investing to be complex. It doesn´t have to be. You can manage your money yourself.
Fall in Love With Your Feminine Power


This 8-week DailyOm online course incorporates meditation, energy healing, and women´s energetics work to help you heal, empower and awaken your connection to your feminine energy body. It includes print materials, video, and guided audio meditation. No prior meditation or energy work experience necessary. Embrace your full power, health, joy, and spirit!
Heart Beat


A clean cozy mystery for pleasure reading. Murder and mayhem with a side of humor. Second volume of the Evelynton Murder Series