Beauty & Self
Books & Music
Career
Computers
Education
Family
Food & Wine
Health & Fitness
Hobbies & Crafts
Home & Garden
Money
News & Politics
Relationships
Religion & Spirituality
Sports
Travel & Culture
TV & Movies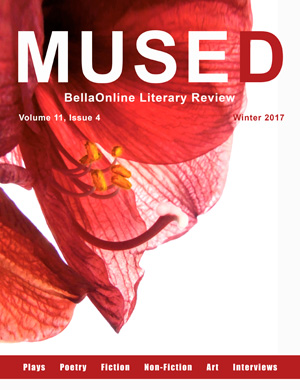 We all travel on this blue-green ball around our very own star each year, sliding a little closer, sliding a bit further away. The balance is critical. Too much closer and we'd roast. Too much further away and we'd freeze.

We should be aware of just how blessed we are that our Earth is "just right" - and do what we can to keep our world healthy. It's the only one we have.

Enjoy the Mused Winter Solstice 2017 Issue



The joys of learning American
Romantic Getaways - Marianne de Nazareth, Editor

Several times I was pulled up hilariously, by the short hairs for my colonial English words, by my four year old American grand daughter.




Irish Curd Tart Recipe
Desserts - Karen Hancock, Editor

This delicious tart is perfect to serve on St. Patrick's Day or after any Irish meal. It's not too sweet, and is similar to a cheesecake with a very different, yet pleasant texture.




Chocolate Festival in Grand Traverse Michigan
Senior Travel - Hazel M. Freeman, Editor

If one of your weaknesses is chocolate you'll find a great chocolate tour in the Grand Traverse area of Michigan. The ninth annual Traverse City Chocolate Festival takes place on April 15th. 2018. Read on for a decadent chocolate mousse recipe.




The Fragrance of God
Christian Living - Lynne Chapman, Editor

I burn scented candles and use scented oil diffusers, both designed to enhance the atmosphere of my home. In the bible, a pleasant fragrance is associated with pleasing God.




Florida's New Gun Law
Florida - Georgiana Kurtz, Editor

The Valentine's Day mass shooting at Marjorie Stoneman Douglas High School in Parkland has prompted the passage of a new state law aimed at preventing future massacres. Here are the provisions of the new gun law.




Foodimentary Book Review
Quick Cooking - Karen Hancock, Editor

Love Trivia? If you like learning about food, you'll love this fascinating book. The recipes are easy to follow and perfect for celebrating a holiday every day of the year.


| Google+ |
E D I T O R R E C O M M E N D E D
True Balance by Sonia Choquette


This terrific guide gives you fun, everyday ideas with which to open and strengthen all seven of your chakra energy-centers, including the third-eye chakra and crown chakra which help you to connect with psychic phenomena and the divine.
Make Clothes for 18 Inch Dolls


With this book you can make a complete wardrobe for 18 inch dolls; including dresses, pants, jewelry, a bag and a crocheted outfit.