Beauty & Self
Books & Music
Career
Computers
Education
Family
Food & Wine
Health & Fitness
Hobbies & Crafts
Home & Garden
Money
News & Politics
Relationships
Religion & Spirituality
Sports
Travel & Culture
TV & Movies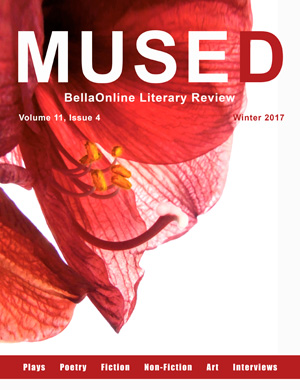 We all travel on this blue-green ball around our very own star each year, sliding a little closer, sliding a bit further away. The balance is critical. Too much closer and we'd roast. Too much further away and we'd freeze.

We should be aware of just how blessed we are that our Earth is "just right" - and do what we can to keep our world healthy. It's the only one we have.

Enjoy the Mused Winter Solstice 2017 Issue



The Young Englishwoman wheel
Tatting - Georgia Seitz, Editor

From the vintage publication, The Young Englishwoman, a wheel pattern #174 is examined to modernize the directions.




Here's How Happiness Is Good for Your Health
Nutrition - Moss Greene, Editor

How can you change your mood? Here are some great tools to become a happier, healthier, more optimistic human-being, plus all the reasons why you should.




Broiled Salmon with Indian Spices
Indian Food - Sadhana Ginde, Editor

Healthy, delicious and super nutritious - my Broiled Salmon with Indian Spices is always a crowd pleaser & sure fire hit. This dish is super simple to prepare & also packed with lots of beneficial Omega 3s! This is a great dish for entertaining too, YUM :-)




Short Rows
Knitting - Korie Beth Brown, Ph.D., Editor

Looking to add shaping to your knitting? Learn how to short row!




Pumpernickel Grilled Cheese Sandwich Recipe
Sandwiches - Connie Mistler Davidson, Editor

Sometimes, I want a full-flavored hearty sandwich, something with Old World comfort. That's when I turn to this delicious sandwich. It has a rich crunch and ingredients that satisfy my need for real food.




Juggernaut Film Review
Drama Movies - Angela K. Peterson, Editor

A home-grown terrorist plants seven bombs on a British ocean liner. The authorities have twenty-four hours to find him and save the passengers. This overlooked gem from the seventies stars Anthony Hopkins, Omar Sharif, Richard Harris, and Shirley Knight.


| Google+ |
E D I T O R R E C O M M E N D E D
OSTRICH - A Little Book About Life´s Ups and Downs


OSTRICH - A Little Book About Life´s Ups and Downs is a self-help manual of sorts to help women find their balance and their way through life´s many mazes because Life Is What Life Is - Nothing More and Nothing Less... A unique book for women in a rhyming saucy, seussy entertaining style with a New Age attitude. It´s eclectically styled, wisdom gone wild for a woman´s inner child. By Kate Woods
Ni Hao, Kai- Lan: Super Special Days DVD


This Ni hao, Kai- Lan DVD: super Special Days is great for preschoolers who are fans of the show, or for preschoolers who need help identifying and managing negative emotions.
Stranger Safety Video


From Julie Clark, the mom and creator of the Baby Einstein series stars as the super energetic safe side chick in her highly entertaining, yet kid-sized educational video to teach children about strangers. Julie Clark, along with John Walsh the host of Americas Most Wanted Show have created a video packed with sound advice on Stranger Safety for kids age 2-10.