Beauty & Self
Books & Music
Career
Computers
Education
Family
Food & Wine
Health & Fitness
Hobbies & Crafts
Home & Garden
Money
News & Politics
Relationships
Religion & Spirituality
Sports
Travel & Culture
TV & Movies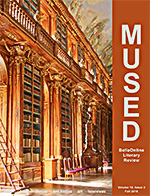 The autumn equinox, that balance point of light and dark, is closely tied to the moon. In China the Moon Festival happens around the autumn equinox, celebrating gratitude and the warmth of good friends and family. This year it was Sept 15th. Our last eclipse of 2016 was a penumbral lunar eclipse on Sept 16th. It fell in conjunction with the full harvest moon, also a symbol of thankfulness and appreciating those who care about you. The autumn equinox is a perfect time to add to those celebrations. It's a wonderful moment to treasure all we have and to share warmth with those who support us.

Autumn Equinox 2016 issue of Mused

Minty Thai Shrimp Curry Recipe
Indian Food - Sadhana Ginde, Editor

I am a big fan of both shrimp and Thai food - so this delicious dish was an absolute no brainer for me. It has a lovely depth of flavor combining tender, succulent shrimp with coconut milk, fresh mint and basil leaves too. Feel free to make the dish as mild or as spicy as you like.




Chantry Flats
California - Korie Beth Brown, Ph.D. , Editor

Just ten minutes out of the Los Angeles suburb of Arcadia, a new world awaits.




Review of 150 Scandinavian Motifs
Knitting - Korie Beth Brown, Ph.D., Editor

Looking for a dictionary of Scandinavian color patterns? Mary Jane Mucklestone has you covered!




Fashionable Investment in Winter Gear
Women's Fashion - LaTeisha Clément, Editor

Winter gear can be pretty expensive, especially when you want it to last a lifetime, or as close to that as possible. If you are willing to take the plunge, or to simply consider the options, then this article is for you!




Artists Who Paint Political Portraits
Art Appreciation - Camille Gizzarelli, Editor

Painting political figures realistically or ideally began in the 1500s in Europe. Many artists have depicted politicians for the sake of propaganda or posterity. I will discuss such artists and their works.




Fighting Pigging Out
Geriatrics - Patricia Villani, MPA, PhD, Editor

Over-indulging at holiday time isn't the healthiest thing we can do. This article provides some ideas to enjoy all of the delicious options at our holiday tables while helping us avoid stuffing ourselves, being uncomfortable, and cancelling out all of our best efforts to lose weight.


| Google+ |
E D I T O R R E C O M M E N D E D
Eagle One is 2nd to None!


Everyone should have the basics to keep their rides shiny and road ready. The only way to do it is with Eagle One all day long!
Dry Body Brush Natural Bristles


This bath body skin brush and scrub gloves will help reduce and prevent clogged pores, ingrown hair or acne problems and prepare your skin to absorb your favorite skin care products so much better.
How to Write Descriptions of Eyes and Faces


by Val Kovalin, your BellaOnline editor for the Fiction Writing site. Learn to describe the appearance of the eyes, actions involving the eyes, and how to describe eyelids, eyebrows, and eyelashes. More than 2,000 words explaining 82 color names to assign to eyes. Facial shapes, forehead, ears, cheekbones, nose, lips, chin, and facial hair. Learn how the face shows different emotions, and more!