Beauty & Self
Books & Music
Career
Computers
Education
Family
Food & Wine
Health & Fitness
Hobbies & Crafts
Home & Garden
Money
News & Politics
Relationships
Religion & Spirituality
Sports
Travel & Culture
TV & Movies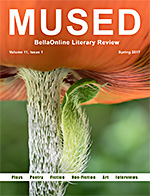 In our modern world of 24-hour diners and around-the-clock email, it sometimes seems as if we've lost track of nature's cycles. But then the Spring Equinox comes along and reminds us to pause. For thousands of years, cultures around the world have recognized this one special day as representing a balance of light and dark. It's a unique moment in time where our world settles in equilibrium – just for a breath. And then the sunlight shines out and pulls us deeper into Spring.

Enjoy the Mused Spring Equinox 2017 Issue



The Modern Library
Reading - Connie Mistler Davidson, Editor

The library of my youth was quiet place with shelves of books and tables to sit and read or study. The card catalog offered the road map to the library's offerings. The modern library has far more to offer. What does a well-equipped library have to share with patrons? Read on!




Ahi Tuna Cakes recipe
Cooking for Kids - Kymberly A. Morgan, Editor

Looking for something quick and tasty to make for lunch, dinner, or even a snack? These delicious little Ahi Tuna cakes are fast, healthy and can be eaten hot or cold. Make plenty for left-overs, and send them to school in your kid's lunch.




Mignonette Snood - Stephanie Wilson
Tatting - Georgia Seitz, Editor

Emmy Liebert Book #36 Pattern #23 From the files of the Online Tatting Class is shared a vintage pattern by Emmy Liebert with revised and modernized text by Stephanie Wilson




Five Best Ways to Fight Fatigue
Nutrition - Moss Greene, Editor

Fatigue is not a permanent feeling that you have to learn to grin and bear. Here are the five best ways to get your "get up and go" to get back in gear.




Best Doctor Search for Fibromyalgia
Fibromyalgia and CFS - Veronica E. Thomas, Editor

Many search for a doctor to either diagnose or treat their fibromyalgia and chronic fatigue syndrome to no avail. Which doctor is better qualified to treat these conditions? Read this article for the answer.




Professional Development for Online Instructors
Distance Learning - Patricia Pedraza-Nafziger, Editor

Whatever your reasons may be, once you become an online adjunct instructor, there are certain requirements that will be expected of you in addition to your teaching responsibilities.


| Google+ |
E D I T O R R E C O M M E N D E D
Personal Alarm & Whistle Combo


This is a wonderful personal alarm and whistle combo suitable for kids or adults. The personal alarm fits on all size wrists, and is easily adjustable with the Velcro type strap, which keeps it nearby while walking, jogging, or traveling. The alarm is loud and quickly alerts those nearby if one needs help.
Eagle One is 2nd to None!


Everyone should have the basics to keep their rides shiny and road ready. The only way to do it is with Eagle One all day long!